Prep: 10mins | Bake: 50mins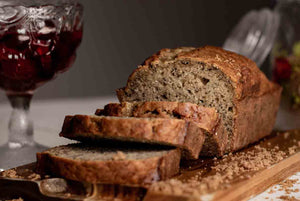 Method
Step 1:
Put the butter and caster sugar in a mixing bowl and mix on a medium speed until it is light and fluffy.
Step 2:
Preheat the oven to 180oC/160oC Fan/Gas mark 4.
Step 3:
Slowly add the egg and flour over a medium speed until it is mixed through. Now scrape down the bowl and mix for a further 2 minutes on medium speed.
Step 4:
Add the mashed bananas and crushed walnuts and mix on a slow speed until they are evenly blended.
Step 5:
Grease and line a 2lb loaf tin and pour the mixture in. Place the tin in the oven and bake for 50 minutes to 1 hour or until you push a skewer through the centre and it comes out clear without any batter.
Step 6:
Leave the banana bread in the tin to cool for 10 minutes then remove it and place it on a baking wire to cool completely.
Step 7:
mix the icing sugar with 2tsp to 3tsp of water to make runny icing and drizzle it of the top of the banana bread. Now scatter the crushed walnuts and leave for about 30 minutes or until the icing has set.

Enjoy!
Ingredients
140g Butter
140g Caster Sugar
2 Medium Eggs (100g)
180g Nelstrops Self-raising flour
2 Ripe Mashed Bananas
125g Crushed Walnuts