Prep: 15mins | Bake: 25mins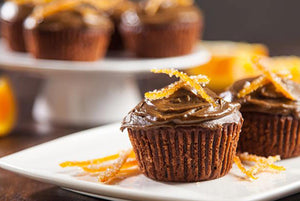 Method
Step 1:
Using the sunflower oil get a nine cup muffin pan and grease it up.
Step 2:
Sift the flour into a mixing bowl and add the ground almonds and the sugar.
Step 3:
Mix the orange rind and juice, cream cheese and the eggs in a separate bowl. Now add this mixture to the dry ingredients and add the chocolate chips and beat well until all the ingredients are combined well.
Step 4:
Divide the mixture between the cups until it has all been used up. Now place in a preheated oven of 190°C/375°F/Gas mark 5 and bake for 20-25 minutes or until well risen and golden brown.
Step 5:
Remove the muffins from the oven and allow to cool slightly before de-tinning and placing on a baking wire.
Ingredients
300g Self-raising flour
55g Ground almonds
2 oz Brown sugar
1 Orange rind and juice
175g Cream cheese
2 Large eggs
55g Plain chocolate chips