Orange and Liqueur Muffins

Prep: 25mins | Bake: 25mins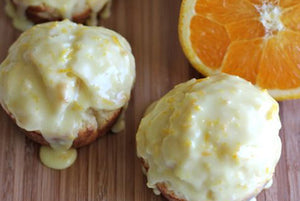 Method
Step 1:
Use a 12 cup muffin pan and line it with muffin cases. Now make the topping by mixing the brown sugar, ground cinnamon and orange rind in a bowl and place this to the side for now.
Step 2:
Sift the flour and baking powder into a large bowl.
Step 3:
In a separate large bowl cream together the caster sugar and butter now stir in the beaten eggs then pour in the milk, cream and orange flavoured liqueur. Now mix until the mixture looks combined.
Step 4:
Divide the mixture between the 12 muffin cases, this should make them about 3 quarters full and sprinkle some of the topping on each of the muffins. Now place them in a pre-heated oven of 190°C/375°F/Gas mark 5 and bake them for about 22 to 25 minutes or until risen and golden. Remove the muffins from the oven and serve warm or transfer onto a baking wire to cool and serve cool.
Ingredients
125g Plain flour
3 tsp Baking powder
175g Butter
125g Caster sugar
2 Large eggs, beaten
110ml Milk
4 tbsp single cream
1 ½ tbsp of Orange flavoured liqueur such as cointreau
Cinnamon topping:
3 tbsp Brown sugar
1tsp ground cinnamon
1 freshly grated rind of orange