Orange and Raisin Brioche

Prep: 2hr 20mins | Bake: 15mins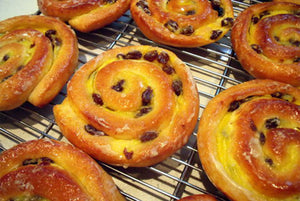 Method
Step 1:
Start by greasing 12 brioche moulds and setting them to one side. Now sift the flour and salt together and add them into a warmed bowl along with the yeast, sugar raisins and orange rind making them into a well. Now in a separate bowl mix together the water eggs and melted butter now add these to the dry ingredients and beat to form a soft dough. Place the dough on to a lightly floured work surface and knead for 5 minutes until the dough is smooth and elastic. Now grease a large bowl and place the dough in to it and cover with a plastic bag and let it rest for about 1 hour and the dough should have doubled in size.
Step 2:
Turn the dough out onto a lightly floured work surface and gently knead for about 1 minute. Now roll the dough out into a long sausage shape and cut 12 equal pieces out using up all the dough. On every dough piece divide a quarter of and shape the other 3 quarters into a ball shape and place it into the mould. With a floured finger press the top of the ball piece in making a hole in the centre of each. With the remaining dough that you cut of each piece shape them into balls and place one on top of every dough piece in the moulds pressing in firmly so they stay in place.
Step 3:
Cover all the moulds with some slightly oiled cling film and leave them to rest for 1 hour so that the dough looks airy.
Step 4:
Brush each of the brioches with the beaten egg and place in a pre-heated oven of 220°C/425°F/Gas mark 7 and bake for 15 minutes or until golden brown.
Ingredients
55g Melted butter
225g Strong white flour
½ tsp Salt
2 tsp Easy bake yeast
1 tbsp Golden caster sugar
55g Raisins
1 Grated rind of orange
2 tbsp Tepid water
2 Beaten eggs
1 Beaten egg for glaze