Prep: 20mins | Bake: 25mins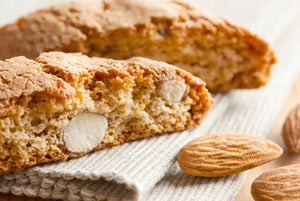 Method
Step 1:
Sift the flour, baking powder, salt and sugar into a large bowl then add the eggs and orange rind and mix together to form a dough. Now knead in the almonds.
Step 2:
Using your hands roll the dough into a ball and cut in half, now roll each half into a long log shape making sure that its about 4cm/ 1 ½ inches in diameter. Place the two half's onto a baking sheet that has been lightly dusted with flour and bake in a pre-heated oven of 180°C/350°F/Gas mark 4 for 10 minutes then remove from the oven and allow to cool for 5 minutes.
Step 3:
Using a serrated knife cut the logs into diagonal slices of about 1cm/ ½ inch thick and arrange them on the baking sheet. Now bake them in oven for a further 15 minutes or until slightly golden brown. Now remove them from the oven and place them on a cooling wire to cool completely before serving.
Ingredients
250g Plain flour
1 tsp Baking powder
Pinch of salt
150g Caster sugar
2 Eggs beaten
1 finely grated orange rind
100g Whole blanched almonds lightly toasted