Apple Pancakes with Maple Syrup Butter

Prep: 15mins | Bake: 5mins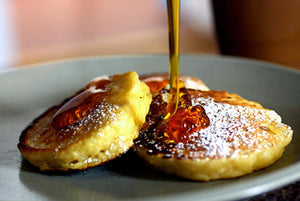 Method
Step 1:
Mix the flour, sugar and cinnamon in a bowl. Beat the egg and milk together and pour onto the flour, sugar and cinnamon and mix together until the mixture is combined. Now gently stir in the grated apple.
Step 2:
Place the tea spoon of butter in a non stick frying pan and place on a medium heat until the butter has melted. Now pour in enough of the mixture to form a pancake with your desired size and cook for about 1 minute and the top should start to bubble and the pancake should look set. Then flip it over and cook for a further minute insuring that both side look golden brown. Now remove from the pan and place on a plate. Repeat this process until you have used up all the mixture.
Step 3:
To make the maple syrup butter heat the softened butter and maple syrup in a pan over a low heat and mix until combined now put into a jug. Pour the maple butter syrup over the pancakes and serve.
Ingredients
200g Self-raising flour
100g Caster sugar
1 tsp Ground cinnamon
1 Egg
200ml Milk
2 Apples, peeled and grated 1 tsp butter
3 tbsp Maple syrup
85g Softened butter for the syrup