Prep: 40mins | Bake: 15mins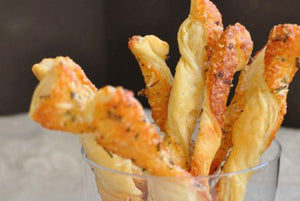 Method
Step 1:
Sift together the flour, salt and curry powder into a mixing bowl then add the butter and rub in until the mixture looks like bread crumbs. Now mix in the egg and cheese to form a dough then wrap in cling film and chill for 30 minutes in the refrigerator.
Step 2:
Now on a lightly floured work surface pin out the dough until it's about 5mm thick, then cut the dough into rectangle shapes trying to make them all equal length. Now place the rectangles on some lightly greased baking paper on a baking tray.
Step 3:
Brush the straws with the remaining egg and sprinkle on the sesame seeds. Bake in a preheated oven of 200°C/400°F/Gas mark 6 for 10 to 15 minutes or until golden brown. Transfer to cooling wire to cool.
Ingredients
115g Plain flour
Pinch of salt
1 tsp Curry powder
55g Butter
55g Grated cheddar cheese
1 Beaten egg
Sesame seeds for sprinkling