Chocolate Viennese Fingers

Prep: 20mins | Bake: 20mins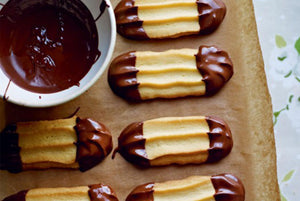 Method
Step 1:
Beat the sugar and the butter together until light and fluffy then sift in the flour and cocoa powder and mix until it's of a smooth consistency which is easy to pipe.
Step 2:
Place the mixture into a piping bag with a fluted tip. Pipe them on a grease proof baking sheet on a tray and pipe them about 2 inches in length. Make sure you leave plenty of room for them to expand in the oven. Place them in a preheated oven of 180°C/350°F/Gas mark 4 and bake for 15-18 minutes or until they are golden brown and firm to touch.
Step 3:
Cool on the baking tray for 2 minutes before transferring them onto a baking wire to cool completely. Now melt the chocolate in a bowl and take the ends of each biscuit and dip them in the chocolate then let them set. Once the chocolate has set they will be ready to serve.
Ingredients
135g Softened Butter
55g Caster sugar
125g Plain flour
1 tbsp Cocoa powder
100g Plain chocolate