Prep: 15mins | Bake: 12mins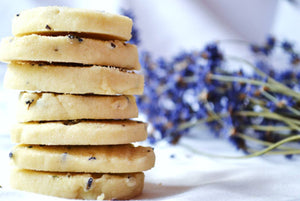 Method
Step 1:
Place the sugar and lavender leaves in a food processer and process until the lavender leaves are finely chopped, now add the butter and lemon rind and process until light and fluffy. Transfer the mixture into a large bowl and sift in the flour and beat until the mixture forms a stiff dough.
Step 2:
Take the dough and roll out to about a thickness of 3-5mm. Using a biscuit cutter cut out pieces of dough and place them onto a baking tray. Re-roll the excess dough and repeat the process until all the dough has been used up
Step 3:
Prick the biscuits using a fork and place into a preheated oven at 150°C/300°F/ Gas mark 2 and bake for 12 minutes or until a pale golden brown colour. Leave to cool on the baking tray for 2 minutes then place on a wire rack to cool completely.
Ingredients
55g Golden caster sugar
1 tsp Chopped lavender leaves
115g Butter softened
1 Finely grated rind of lemon
175g Plain flour