Prep: 50mins | Bake: 20mins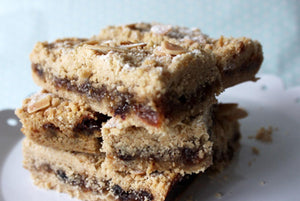 Method
Step 1:
Grease a shallow 28x20cm/ 11×8-inch cake tin. Now to make the bottom layer, beat the butter and sugar until light and fluffy. Now sift in the corn flour and plain flour and with your hands bring the mixture together to form a ball. Now push the dough into the tin making sure you get in all the corners. Chill the dough in the refrigerator for 20 minutes. Now bake in a preheated oven of 200°C/400°F/Gas mark 6 for 12-15 minutes or until golden brown.
Step 2:
For the topping place the flour, butter and sugar in a bowl and rub together until it resembles crumbs. Now stir in the flaked almonds.
Step 3:
Now spread the mincemeat over the bottom layer and scatter on the crumbs. Now bake for a further 20 minutes or until golden brown, once out of the oven dust on the icing sugar and leave it to slightly cool then cut into 12 pieces and leave to cool completely then serve.
Ingredients
400g Ready made mincemeat Icing sugar for dusting
Bottom layer
140g Butter
85g Caster sugar
150g Plain flour
85g Corn flour
Topping
115g Self-raising flour
6 tbsp butter cut into pieces
85g Caster sugar
25g Flaked almonds