Prep: 24mins | Bake: 30mins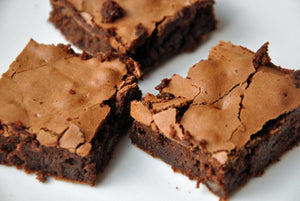 Method
Step 1:
Grease up a square based cake tin roughly 20cm/8 inches in size. Place the butter and chocolate in a heavy based saucepan and cook over a low heat until melted. Now stir and set aside to cool.
Step 2:
Place the sugar and eggs in a large bowl and cream together until light and fluffy. Fold in the chocolate mixture and cooled coffee and mix thoroughly. Now sift in the flour and baking powder and fold into the mix lightly then add the chopped pecan nuts and fold again.
Step 3:
Pour the mixture into the cake tin and bake in a preheated oven of 180°C/350°F/ Gas mark 4 for 25-30 minutes or until a skewer inserted into the centre comes out clean and dry.
Step 4:
Cool in the tin for about 5 minutes then use as knife and cut around the sides the loosen it then turn the brownie out and place it on a baking wire to cool.
Ingredients
55g Butter
115g Plain chocolate broken into pieces
175g Brown sugar
2 Eggs
1 tbsp instant coffee powder dissolved in 1 tbsp hot water, then cooled.
85g Plain flour
½ tsp Baking powder
55g Roughly chopped pecan nuts