Moroccan Orange Almond Cake

Prep: 25mins | Bake: 40mins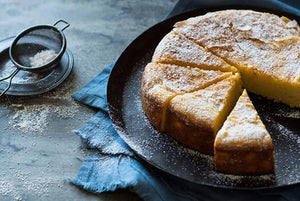 Method
Step 1:
Grate the rind of the orange and save some for decoration, then squeeze out the juice of half the orange. Now place butter, orange rind and sugar in a bowl and beat together until light and fluffy. Now gradually beat in the eggs.
Step 2:
In a separate bowl add the flour ground almonds and baking powder and mix together. Now fold in the creamed mixture from step 1 with the orange juice. Now spoon the batter into a greased base lined 8 inch cake tin and place into a preheated oven at 180°C/350°F/Gas mark 4 and bake for 30 to 40 minutes or until well risen. To check the cake is baked insert a skewer into the centre and it should come out clean. Now leave the cake in the tin for 10 minutes before de-tinning it.
Step 3:
To make the syrup place the orange juice, caster sugar and crushed cardamon in a pan and place on a low heat and stir until the sugar is dissolved. Now simmer the syrup for 4 minutes. Now strain the syrup into a bowl.
Step 4:
Place the cake into a deep serving dish and using a skewer make holes all over the surface of the cake.
Ingredients
1 Orange
115g Softened butter
115g Golden caster sugar
2 Large Eggs
175g Plain Flour
100g Ground almonds
1 ½ tsp baking powder
Icing sugar for dusting