Multiseed & Flake Naan Bread

Prep: 3hr 30mins | Bake: 6mins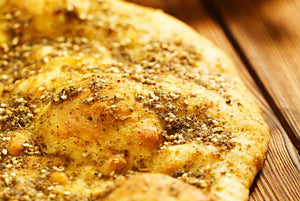 Method
Step 1:
Place all the ingredients into a large bowl and mix them together. Then turn out the mixture onto a clean work surface and knead by hand for 5 minutes or until the dough is nice and elastic. If you have a mixer with a dough hook, mix for 2 minutes on slow speed then 6 minutes on medium to fast speed (times may vary depending on type of mixer). Our flours have high quality proteins so it is better to knead for slightly longer than too little to make sure the dough is developed. The dough will be slightly sticky.
Step 2:
Place the dough in a large bowl and cover with Clingfilm or a damp tea towel and leave in a warm place to double in size. This can take up to 2 hours depending on ambient temperature.
Step 3:
Tip the bowl out on to a clean work surface and gently knead for a few seconds to take the air out. Divide the dough into 7 equal parts and roll them into balls. With a rolling pin roll out the dough balls so that they are long oblong shapes. You want to pin these out very flat then place them onto a baking tray making sure they don't touch one another.
Step 4:
Cover the dough on the tray with Clingfilm or a damp tea towel and leave to ferment in a warm place for about 30 minutes to 1 hour or until doubled in size. Pre-heat your oven to 260oC/Fan 240oC/ Gas mark 10. If this isn't achievable on your oven then set it to its highest heat.
Step 5:
Uncover the dough and place it in the oven to bake for 3 to 6 minutes. You should see the dough puff up in the oven and turn golden brown quickly. Once they are baked take them out of the oven and place them on a baking wire to cool.

Enjoy!
Ingredients
500g Nelstrop Multiseed & Flake Flour
35g Butter
10g Yeast
5g Sugar
8gSalt
1 Egg (50g)
125g Natural Yoghurt
130g Water