Prep: 20mins | Bake: 25mins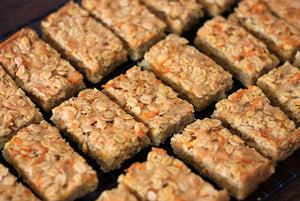 Method
Step 1:
Place the rolled oats, chopped hazelnuts and flour in a large mixing bowl and stir together.
Step 2:
Place the butter, syrup and sugar in a saucepan and cook over a low heat and stir until it's all melted. Now pour onto the dry ingredients and mix together. Now place the mixture into a square oven prove dish that has been greased and using the back of a spoon smooth over the surface.
Step 3:
Now bake in a preheated oven of 180oC/350oF/Gas mark 4 for 20-25 minutes until it looks golden brown and feels firm if pressed. Leave to cool in the dish and once cooled cut into squares and serve.
Ingredients
Butter – 115g / 4 oz
Rolled oats- 200g / 7 oz
Chopped hazelnuts- 115g / 4 oz
Plain flour- 55g / 2 oz
2 tbsp Golden syrup
Light brown sugar- 85g / 3 oz