Prep: 2hr 30mins | Bake: 35mins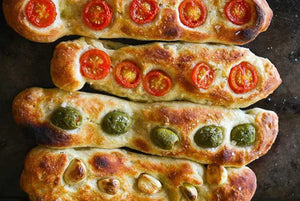 Method
Step 1:
Place the flour, salt, yeast and sugar in a bowl and give a quick mix so that the ingredients are dispersed. Now make a well and add the water and olive oil and mix to form a dough. Once a dough has been formed knead for 4 minutes and then add the olives and the sun-dried tomatoes and now knead for a further 2 minutes or until the dough looks smooth and silky. Now place the dough in a lightly greased bowl and cover with cling film and leave the dough in a warm place for about 1 ½ hours or until the dough has doubled in size.
Step 2:
Lightly dust 2 baking trays with flour, now turn out the dough onto a work surface and cut into 2 equal pieces. Lightly knead both the dough pieces and shape them into balls and place them on the baking trays and cover them with cling film and leave for 45 minutes or until the dough has doubled in size.
Step 3:
Remove the cling film and make 3 shallow cuts diagonally and then brush the dough with the beaten egg yolk. Place the dough in a preheated oven of 200°C/400°F/Gas mark 6 for 35 to 40 minutes or until golden brown. To test it the bread is baked all the way through tap the bottom and it should sound hollow. Once the bread has been taken out of the oven place it on a cooling wire straight away, this will prevent it from sweating.
Ingredients
400g Strong white flour
1 tsp Salt
2 tsp Easy bake yeast
1 tsp of Caster sugar
1 tbsp Chopped fresh thyme
200ml Warm water
4 tbsp of Olive Oil
50g Black olives pitted and sliced
50g Green olives pitted and sliced
100g Sun-dried tomatoes
Drained and sliced
1 Beaten egg yolk