Strawberry Teacup Cupcakes

Prep: 22mins | Bake: 25mins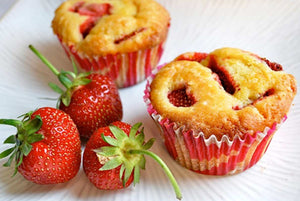 Method
Step 1:
Grease 6 heavy, round teacups with butter. Now put 1 table spoon of strawberry jam in each of the tea cups.
Step 2:
Put the butter and sugar in a bowl and beat until light and fluffy. Now add the eggs and beat well after each addition then add the vanilla essence. Sift in the flour and fold the flour into the mixture. Now spoon the mixture into the teacups.
Step 3:
Place the teacups into a large roasting tin and fill the tin with hot water so that it is just under half way of the cup. Then place them into a preheated oven of 180°C/350°F/Gas mark 4 and bake for 35 to 40 minutes or until well risen and golden brown.
Step 4:
Once baked leave them to cool for 2 to 3 minutes then place them on saucers and dust with icing sugar. Serve whilst still warm.
Ingredients
8 tbsp Softened butter
6 tbsp of strawberry jam
115g Caster sugar
2 Eggs lightly beaten
1 tsp Vanilla essence
115g Self-raising flour
6 large strawberries cut in half Icing sugar for dusting