Traditional Wholemeal Dinner Rolls

Prep: 3hr 10mins | Bake: 20mins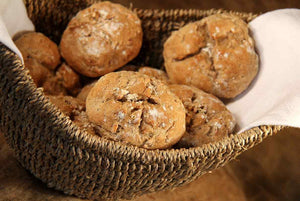 Method
Step 1:
Place all the ingredients into a large bowl and mix them together. Then turn out the mixture onto a clean work surface and knead by hand for 5 minutes or until the dough is nice and elastic. If you have a mixer with a dough hook, mix for 2 minutes on slow speed then 8 minutes on medium to fast speed (times may vary depending on type of mixer). Our flours have high quality proteins so it is better to knead for slightly longer than too little to make sure the dough is developed.
Step 2:
Place the dough in a large bowl and cover with Clingfilm or a damp tea towel and leave in a warm place to double in size. This can take up to 2 hours.
Step 3:
Tip the bowl out on to a clean work surface and gently knead for a few seconds to take the air out. Now divide the dough into 14 balls roughly 60g each and mould them into round balls round. From here you can make different shapes and knots or just leave them round and place them on a few baking trays – if you want to batch them together for a 'tear and share' leave a fingers width between each one, if you do not want them to batch leave a 3 fingers width between each one.
Step 4:
Cover the dough balls/knots on the tray with Clingfilm or a damp tea towel and leave to ferment in a warm place for about 30 minutes to 1 hour or until doubled in size. Pre-heat your oven to 250oC/Fan 230oC/ Gas mark 9.
Step 5:
Uncover the dough balls/knots and give it your signature cut on top, EG a cut or two on the top of each roll. Spay each of the dough balls/knots with water before placing them in the oven (this will give them a crusty bite) and bake them for 15 to 20 minutes or until golden brown. Once baked, take the rolls off the baking tray and place them on top of a cold oven shelf and leave for 10 minutes (by taking them off the baking tray to cool stops them from getting soggy bottoms…).

Enjoy!
Ingredients
500g Nelstrop Traditional Wholemeal Flour
8g Salt
10g Sugar
15g Butter
15g Instant yeast
325g Water