White Chocolate Brownies Recipe

Prep: 15mins | Bake: 30mins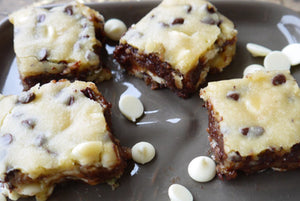 Method
Step 1:
Grease a 7-inch square cake tin with butter
Step 2:
Chop 175g/6 oz of chocolate and all the walnuts and place in a separate bowl. Now with the remaining chocolate place it in a heat proof bowl with the butter and place it over a pan of gently simmering water until melted. Now stir together and place it to one side to slightly cool.
Step 3:
Now whisk the sugar and eggs together, and then beat in the cooled chocolate mixture until well mixed. Fold in the flour chocolate and walnut pieces and pour into the cake tin and smooth the surface.
Step 4:
Place the tin into a preheated oven of 180°C/350°F/Gas mark 4 and bake for 30 minutes or until just set. This should make the centre a little soft. Remove from the oven and cool in the tin before cutting into 9 squares and serving.
Ingredients
55g Unsalted butter
225g White chocolate
115g Walnuts
2 Eggs
115g Soft brown sugar
115g Self raising flour